Post by Captain Nyoko Honda on Aug 11, 2010 10:28:58 GMT -5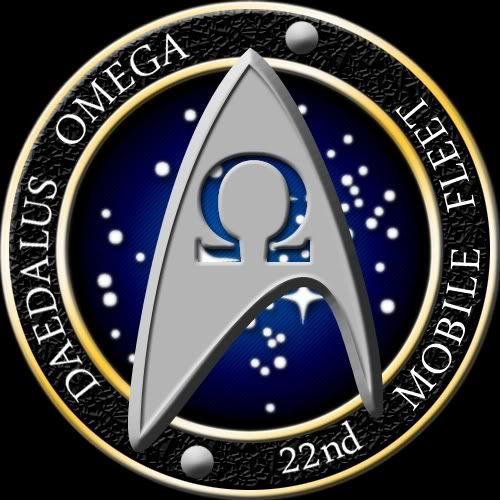 22nd Mobile Fleet Daedalus
Application
Introduction
Fleet 22nd Mobile Daedalus provides compatibility in role-play through a system of rules which are adhered to by all who hold forum membership. By doing this, players may come to share that same standard and have the same expectation from one another. We feature normal, sub-heroic characters as Captains facing the daily mission challenges of getting their crew through safely and pursuing a career in Starfleet. Daedalus it's self is a small task force focused around the story of couple different class starships conducting the expectation of any officer of the Federation Fleet.
Requirements:
Interest in Role Playing, Game Master Authority, and Cooperation to all regulations set forth to enhance the quality of role playing.
Instructions
Do not post to this thread. Make a new thread titled Transfer Request: Your Character's Name. Then recopy each field below the line and add your answer in complete sentences after each question. Once completed, expect anywhere from two to three days to hear a back. A reply will be posted to this thread by a Fleet Executive with further instructions.
If your a player interested in details about Game Mastering. Please click this link and fill out the Game Master's Application.
---
Section 01 – Out Of Character:
(All these questions are to be answered as the player)
1.) What is your user handle (ex: Nyoko@GolbezLunar)?
2.) What time zone are you in?
3.) What Starship Do you wish to be assigned too.
- USS Ayanami, Thunderchild-class, Mondays 11:00 AM EST - 5pm GMT

- USS Pilgrim, Bellerophon-class, Tuesday 9:00 PM EST

- USS Adagio, Galaxy-class, Saturday 9:30 PM EST

- USS Sentinel, Defiant-class, Sunday 8:00 PM EST


4.) Are you an active forum user? (Highly Recommend that you are.)

5.) Are you willing to work with Game Masters as an authority over storylines?

6.) Are you subscribed to the Daedalus OOC Channel?

7.) How did you hear about us?

8.) Are you willing and able to put our guilds information in your Character Bio?

9.) Do you understand the Activity Policy?


Section 02 – OOC Character Inquiry:
(All these questions are to be answered as player about the character you wish to play. It is best that you review daedalusomega.proboards.com/index.cgi?board=rphandbook before answering.)

Part A: Character Request

1.) Character name?

2.) Character gender?

3.) Character race?

4.) Is your character a telepath? (Alien telepath characters are subjected by GM approval)

5.) Select an fleet entry level rank. (Ensign, Jr Lieutenant, Lieutenant)

5.) What is your character's Division? (i.e. Engineering, Security, Tactical, Science, Medical, Helm, ect... For full description of roles and duties, see this link: daedalusomega.proboards.com/index.cgi?board=starfleetcommand1&action=display&thread=2899&page=1 )

7.) What is your basic character concept & history?

8.) What kind of commission does your character have? (Enlisted, Petty Officer, or Officer)

9.) Please give a little background about this character.


Section 03 – Character Sheet:

You will be asked to generate a character sheet for our role palying community. This will be list of your skills that you will test agienst during our role playing games.

Chapter 4 - Races, Traits, Skills
daedalusomega.proboards.com/index.cgi?board=rphandbook&action=display&thread=430

Chapter 5 - Training Skills
daedalusomega.proboards.com/index.cgi?board=rphandbook&action=display&thread=429

Character Generation Aid
stellarwinds.wdfiles.com/local--files/chapter-1-introduction/StarTrek.pdf